TALQ Publications and Graphics
Pocket Guide for Smart Lighting Tenders
This document is thought to be a support for cities and municipalities to ease the setup of lighting tenders. Participants in the TALQ Partner Program can receive an editable version of this document.
White Papers
TALQ Version 2 - The Smart City Protocol (RESTful API with JSON-LD data payload)
You can downlaod a free copy of this white paper here.
TALQ Specification Overview
This white paper provides information about the architecture & protocol stack, the data model, what kind of services are enabled and discusses the key features. It also explains the classification of features in mandatory, optional and vendor specific features.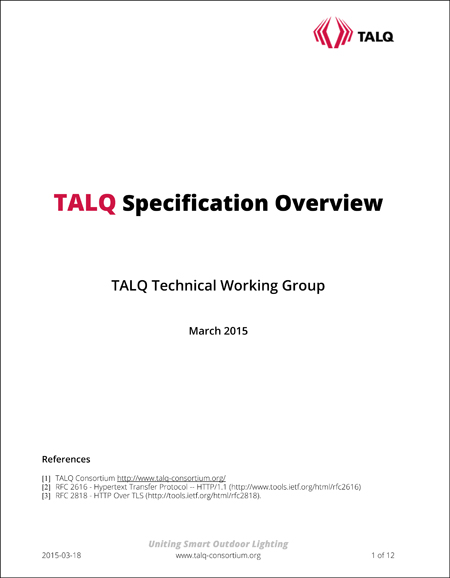 TALQ Application Protocol Transaction Management
Detailed information about the communication between a Central Management System (CMS) and the TALQ bridge. This white paper helps in understanding the flow of the messages on the interface, how to handle communication errors and in the development of the software for a TALQ specification compliant interface.
TALQ White Paper 2012
Explaining the vision and organization of the TALQ Consortium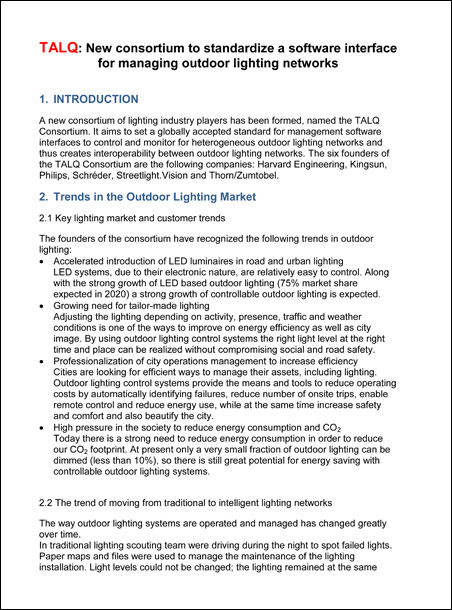 Printable Graphics
To be found in the TALQ picture library.