List of certified TALQ-compliant products
In this area all products approved and certified by TALQ can be found.

MUSE is a software platform, developed by Citégestion – a subsidiary of Citelum group EDF – to manage all urban domains of a city. Indoor and outdoor domains (street lighting, video-protection, traffic light system, air quality sensors, ...) may be referenced in the solution, including networks that connect them. MUSE controls standard operation and maintenance tasks, but also manages work processes, energy and other KPI management/monitoring, as well as powerful data mining functions.
| | |
| --- | --- |
| Product name | MUSE |
| Product Version Number | V4.0. |
| CMS or OLN | CMS |
| Date of Certification | Oct 4, 2017 |
| TALQ Specification Version | 1.0.3 |
| Plug Fest Date | Oct 4, 2017 |
StreetLight.Vision (SLV), Itron's (formally of Silver Spring Networks) Central Management System provides the means for a city to leverage a smart streetlight network and transform it into a true smart city platform. By enabling remote command and control, along with real-time monitoring, the efficient management of streetlights, and an expanding range of smart city assets, is made possible. With improved asset and inventory management, work order management, advanced analytics, and simplified integration with existing business process, SLV pushes the capabilities of outdoor lighting control and extend it to many other smart city applications, providing more benefits and accelerating innovation for customers while providing application partners with new routes to market and revenue opportunities.
| | |
| --- | --- |
| Product Name | Streetlight.Vision |
| Product Version Number | SLV-CMS 7.4 |
| CMS or OLN | CMS |
| Date of Certification | Oct 4, 2017 |
| TALQ Specification Version | 1.0.3 |
| Plug Fest Date | Oct 4, 2017 |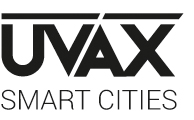 Smart FireFly (SFF) is UVAX's dedicated CMS software for controlling outdoor lighting systems. It features all necessary tools to remotely oversee all streetlights of a municipality or city, supervise their performance, such as power consumption or luminaire efficiency, and all of these by means of an intuitive and user friendly interface. SFF is also able to control other devices such as power meters, EV charging stations, information panels, public address systems, pollution sensors, weather stations and most sensors found in smart city applications.
To integrate the hardware components UVAX solution connects OLNs (Outdoor Lighting Networks) in high speed communication channels using 'Broadband Powerline Communication'. The large bandwidth of up to 200Mb/s allows an unprecedented number of sensors and other subsystems to be integrated in the same network and thereby detect information and changes and send the information through the CA-13 TB (TALQ Bridge) to the CMS.
| | |
| --- | --- |
| Product Name | S2F (Smart FireFly) |
| Product Version Number | V2.3 |
| CMS or OLN | CMS |
| Date of Certification | Oct 4, 2017 |
| TALQ Specification Version | 1.0.3 |
| Plug Fest Date | Oct 4, 2017 |
| | |
| --- | --- |
| Product Name | CA-13                      |
| Product Version Number | V3.3 |
| CMS or OLN | OLN |
| Date of Certification | Oct 4, 2017 |
| TALQ Specification Version | 1.0.3 |
| Plug Fest Date | Oct 4, 2017 |